Traditional Chinese Painting Master Huang Junbi (1898-1991)
Biography

NTNU Connection
Field of Expertise
Honors and Contributions
Major Works
| | |
| --- | --- |
| | Huang Junbi, formerly named Yun Zhi, was from Hainan; he moved to Taiwan in 1949. |
From 1949 onwards, he headed NTNU's Department of Fine Arts for over 20 years. He followed the doctrine of "train outstanding teachers and do advanced academic research". He actively instituted additional teaching facilities and increased the number of staff so that teaching work could develop properly. His teaching methods incorporated the following five steps: 1. Demonstrate in person, 2. Give out works and give students a copy, 3. Mark the assignments and give detailed explanations, 4. Practice sketching, 5. Encourage creativity and innovation in students.
Huang promoted teaching through traditional Chinese painting and sketching. His unique style and creativity made a deep impression on the subsequent development of ink painting in Taiwan. He experienced the entire process of inheritance, evolution and reform of modern Chinese painting. Huang was a traditional Chinese painter skilled in Western styles. In the Western art world his style has been hailed as "Chinese Neoclassicism".
He received first prize in Taiwan's Chinese Art and Literature Award, an honorary fellowship at the Brazilian National Academy of Fine Arts and a Gold Medal Award from St. John's University, New York.
Art Collection of Huang Junbi, Calligraphy Collection of Huang Junbi, Selected Works of Huang Junbi, Baiyun Hall Collection.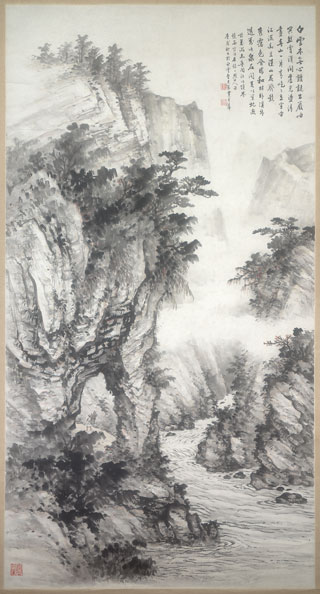 Traditional Chinese Painting Master Huang Junbi